CARICOM Report No. 2 (2005)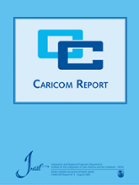 Autores: Jessen, Anneke; Vignoles, Christopher
Fecha: Julio 2005
Descarga: English
Editorial: INTAL
Economic growth in the Caribbean Community (CARICOM) has been slow in the last two decades, averaging just 1.8 percent a year, compared to annual growth of 3.5 percent in the world economy and 4.3 percent in developing countries. Growth has varied considerably among CARICOM¿s 15 member states, but in most countries it has slowed over the years. The Organization of Eastern Caribbean States (OECS), for example, witnessed above-average growth of 5.4 percent a year in the period 1984-1994, but only 3.3 percent in 1994-1999, and only 1.2 percent in 1999-2004. Of the remaining CARICOM countries, only four have seen accelerated growth in recent years. Unemployment rates are high throughout the region, particularly among younger workers. Apart from slow growth and high unemployment, CARICOM countries face many other problems, among them a high prevalence and rising incidence of HIV/AIDS infections; persistent poverty in several countries of the region; high rates of drug abuse, violence and crime linked to the narcotics trade; and recurring devastation caused by hurricanes and other natural disasters. Meanwhile, the world economy is changing rapidly, requiring huge efforts among the small Caribbean countries to adjust to change while continuing to pursue growth and development.